High Dynamic Range (HDR) photographs are combinations of three or more photographs of the same subject that are shot at different shutter speeds. Software is then used to combine the pictures. The underexposed shot supplies the information at the bright end of the dynamic range, and the overexposed shot supplies the information at the dark end of the dynamic range.

After the pictures have been merged, the resulting picture needs to be tone mapped in order to be viewed or printed. Tone mapping can be used to produce a vivid natural photograph, or tone mapping can be used to create some artistic effects.

The first three shots below of the Gasoline Alley display at the Indianapolis Motor Speedway Museum were merged and tone mapped using Photomatix Pro. Then I brought the picture into Photoshop and adjusted the red channel to give the trash can a better look. The results are shown in the center picture in the top row above. All of the pictures above are HDR images that have been given some extra tone mapping for effect. The fourth shot below shows the three images merged into an HDR with no extra tone mapping.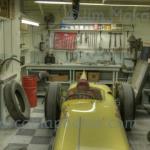 HDR pictures from the World of Wheels show Saturday, February 13, 2010.

OOF! If you like classy old cars, then you have to visit the
Auburn Cord Duesenberg Automobile Museum
in Auburn, Indiana. These are just a few of the HDR images I made while I was there. Unfortunately I didn't log which cars were what make and model. I'll do better next time. Many more of the images are on my Picasa site at
http//picasaweb.google/jmakosky
.